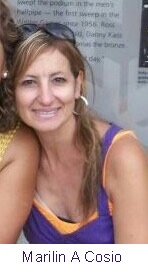 Peru Connection LLC, is a US-based travel agency founded by Peruvians. We have more than 20 years of experience in planning personalized journeys to wonderful places like Cusco, Machu Picchu, Arequipa, Puno, Trujillo, giving our clients vacations that they remember fondly for a lifetime.
We have inherited the same adventurous Spirit of the Inca that existed in those involved in the wondrous discovery of Machu Picchu. One of those local explorers was Jose G Cosio whose work and publications attracted the attention of Hiram Bingham and Yale University.
And now, three generations later, the Cosio family wants to send you on the once hidden trails through this land filled with natural beauty, vibrant culture and rich tradition. Many have come to love Peru because of its traditions and history, but we love Peru because we are its history.
In such a way, our staff is dedicated to delighting our clients. We manage the details and deliver what we promise. Our knowledge and relationships are at your service. Begin your journey today!
---
Una misiva desde las alturas
José Gabriel Cosio estuvo en las ruinas de Machupicchu el 11 de octubre de 1912, allí recuerda a su amigo José de la Riva Agüero y le escribe una tarjeta, que se conserva en el Archivo de su nombre en la universidad Católica. Fue publicada en 1997 en su Epistolario. Dice en ella que le escribía desde esas silenciosas alturas del portentoso Macchupicchu, donde se hallaba acompañando a la Comision Científica de la Universidad de Yale en desempeño de la delegación que me ha conferido el gobierno.
Ahora este lugar está digno de admirarlo, con más de 500 casas relativamente conservadas, graderías, muchos subterráneos, canales de piedra, salas templos y cementerios.
Al recorrer en el silencio de estas calles estrechas y respirar este ambiente de vejez y de ruina recuerdo que usted mi querido compadre, ante los restos del Cuzco, que en comparación con éstos no son nada, sintió una exaltación que llegaba al asombro. ¿Qué no pensaría usted por acá?
Muchos años después sería tomada esta fotografía cuando los dos cuzqueñistas, el uno nato y el otro por adopción recorrerían sus pasos, – dados cuando se encontraban en la veintena de su edad–, ya en el otoño de sus vidas. Ambos podrían repetir entonces las palabras de Hermann Buse: Hemos seguido los mismos caminos, pisando sobre las mismas piedras que hace siglos siguieron los grandes del Imperio...Hemos visto una obra que tiene el derecho de ser eterna.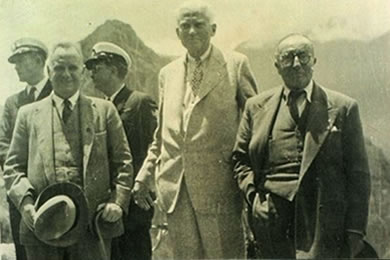 Awards ceremony to my grandfather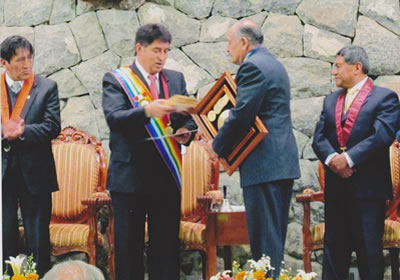 Receiving our granfather's awards for his help in discovering Machu Picchu. The awards were given to him by the Cuzco City Hall.
Our proud family! Cusco - 2011