Home:: Travel To Peru:: Travel To Tumbes and Piura
TRAVEL TO PIURA AND TUMBES
PIURA AND TUMBES
If you find yourself lucky enough to travel by land along the coastline from Piura to Tumbes, you will not be able to escapee losing yourself in the enchantment of the most beautiful of Peru coastal waters. Undoubtedly one of the main attractions along this arid stretch of land is the legendary beach resort of Mancora. It possesses a peculiar combination of surfers, enthusiastic families and regular visitors from all corners of the Globe that one day discovered or were told about- that the sun never hides itself for everyday is summer up here.
This narrow section of coastline is not limited just to Mancora. Equal to it are other great Piura beaches such as Colan, Lobitos, Cabo Blanco and Organos, which have much to say and to bequeath to us in terms of nature and pleasure. Nevertheless, if this seems paltry, then you must not forget that Tumbes also faces the Pacific Ocean and has booked its visitors first class tickets for its beaches, such as modern Punta Sal, traditional Zorritos and Puerto Pizarro, where you can enter the mangroves and experience its fantastic wildlife. All of this is deliciously accompanied by Tumbes famous seafood tradition that can awe the most demanding palate. Travel to Piura, Travel to Tumbes.
Journey to Tumbes and Piura, visit its beaches and mangroves of these cities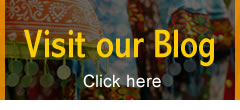 Tumbes y Piura Information for Travelers
How to get there Piura and Tumbes
BY BUS
Take the Pan American Highway North
From Lima to
· Piura: 973 km/13 hrs.
· Tumbes: 1,270 km/18 hrs.
From Trujillo to
· Piura: 420 km/6 hrs
· Tumbes: 698 km/10 hrs.

BY AIR
From Lima to
· Piura: 1 hr. 20'
· Tumbes: 2 hrs
From Trujillo to
· Tumbes: 40'

Piura is served by the Cap. Fap Guillermo Cocha Iberico airport.
Weather
Temperature
Maximum: 34.5 C/94.10 F
Minimum: 15.5C/59.9 F
view more...
Suggested for
· Handicraft collectors
· Nature enthusiasts
· Water sports lovers
· People in search of sun,
sand and sea
view more...
What to buy ?
· Handicrafts
· Filigree
· Pottery
· Saddlebags
· Shawls
· Ponchos
view more...
What to eat?
· Cebiche de conchas negras
· Caldo de bola
· Majarisco
· Sarandaja
· Seco de chabelo
· Yucca (cassava)
· Chifles
· Natilla
· Chicha de jora
view more...
Places to visit Piura and Tumbes
BEACHES FROM PIURA
· Colan
· Paita
· Los Organos
· Cabo Blanco
· Mancora

BEACHES FROM TUMBES
· Punta Sal
· Zorritos
· Puerto Pizarro
view more...
Excursions Piura and Tumbes
FROM PIURA
· Catacaos
· Chulucanas
· Huancabamba and Las
Huaringas Lakes

FROM TUMBES
· Tumbes Mangroves National
Sanctuary
· Tumbes National Reserve
· Cerros de Amotape National
Park
view more...
When?
No information.
Map
view map
Photos Piura and Tumbes
No information.